Free Opioid Overdose Training Class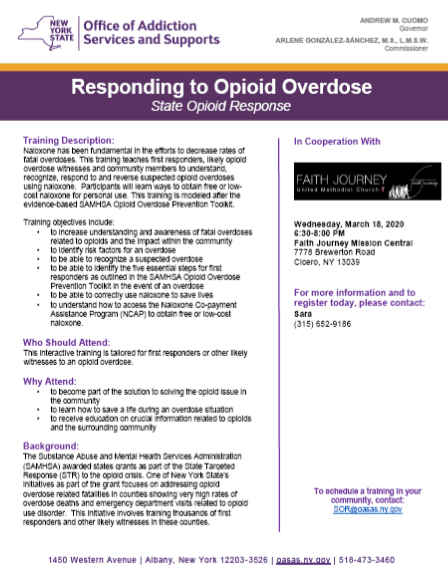 Training Description:
Naloxone has been fundamental in the efforts to decrease rates of fatal overdoses. This training teaches first responders, likely opioid overdose witnesses and community members to understand, recognize, respond to and reverse suspected opioid overdoses using naloxone. Participants will learn ways to obtain free or low-cost naloxone for personal use. This training is modeled after the evidence-based SAMHSA Opioid Overdose Prevention Toolkit.
Who Should Attend:
This interactive training is tailored for first responders or other likely witnesses to an opioid overdose.
Why Attend:
• to become part of the solution to solving the opioid issue in the community
• to learn how to save a life during an overdose situation
• to receive education on crucial information related to opioids and the surrounding community
Wednesday, March 18, 2020
6:30 PM – 8:00 PM
Mission Central / C&B 2.0
7778 Brewerton Rd. Cicero, NY 13039
For more information and to register today, please contact:
Sara at Faith Journey UMC – (315) 652-9186